SCB10 SERIES 33kV CLASS DRY TYPE TRANSFORMER
Features of Products
33kV class Dry-type transformers are widely used in locallighting, high-rise buildings, airports, wharf CNC machinery and other places.
Simply speaking, dry-type transformers refer to transformers in which iron cores and windings are notimmersed in insulating oil.
Cooling methods are divided into natural air cooling (AN) and forced air cooling(AF). During natural air cooling,
the transformer can operate continuously for a long time at rated capacity. When forced air cooling occurs, the output capacity of the transformer can be increased by 50%.
Suitable for intermittent overload operation or emergency overload operation; Since the load loss and impedance voltage increase greatly during overload and are in non-economic operation,
it should not be kept in continuous overload operation for a long time.
Standard
Full complied with GB/T 10228-2008; GB 1094.11-2007, IEC60076 STANDARDS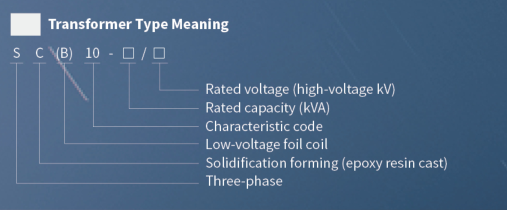 SCB10 SERIES 33kV CLASS DRY TYPE TRANSFORMER
SC(B)10 Series 33kV CLASS DRY TYPE TRANSFORMER TECHNICAL DATA

Rated




Capacity




(kVA)

HV/LV

Vector Group

Impedance voltage




%

Losses




(kW)

No-load current




%

Insulating




 level

Weight




(kg)

 

 

 

No-load

Load

 

 

 

50

 

 

6

0.500 

1.500 

2.8 

F/F

610

100

 

 

0.700 

2.200 

2.4 

915

160

High Voltage

 

0.880 

2.960 

1.8 

1200

200

33∽38.5

 

0.980 

3.500 

1.8 

1400

250

 

 

1.100 

4.000 

1.6 

1600

315

 

Dyn11

1.310 

4.750 

1.6 

1800

400

Low Voltage

 

1.530 

5.700 

1.4 

2200

500

 

or

1.800 

7.000 

1.4 

2500

630

0.4

 

2.070 

8.100 

1.2 

2900

800

 

YynO

2.400 

9.600 

1.2 

3500

1000

0.415

 

2.700 

11.00 

1.0 

4200

1250

 

 

3.150 

13.40 

0.9 

4900

1600

0.433

 

3.600 

16.30 

0.9 

5800

2000

 

 

4.250 

19.20 

0.9 

6600

2500

 

 

4.950 

23.00 

0.9 

7500
SC(B)10 Series 33kV CAST RESIN INSULATION DRY-TYPE TRANSFORMER OUTLINE DIMENSION

Rated




Capacity




(kVA)

Outline Dimension




(mm)

Outline Dimension with Protective Casing




(MM)

L

W

H

D 

A1

A2

A3

L

W

H

D

e 

f

g

h

50

1000

870

1160

550 

550 

550 

820

1700

1400

1300

550

1120

1160

580

220

100

1100

870

1350

550 

550 

550 

820

1800

1400

1500

550

1300

1350

580

220

160

1500

870

1380

820 

820 

820 

820

2200

1500

1600

820

1320

1380

515

260

200

1530

870

1420

820 

820 

820 

820

2250

1500

1650

820

1400

1420

520

265

250

1550

870

1450

820 

820 

820 

820

2300

1600

1700

820

1410

1450

520

275

315

1580

870

1550

820 

820 

820 

820

2300

1600

1800

820

1520

1550

530

280

400

1740

870

1710

820 

820 

820 

820

2450

1600

1950

820

1650

1710

560

320

500

1740

870

1900

820 

820 

820 

820

2450

1700

2100

820

1800

1900

570

330

630

1860

870

1980

820 

820 

820 

820

2550

1700

2250

820

1900

1980

560

320

800

1860

870

2180

820 

820 

820 

820

2550

1800

2400

820

2100

2180

575

330

1000

1900

1120

2265

1070 

1070 

1070 

1070

2600

1800

2500

1070

2125

2265

570

325

1250

1950

1120

2355

1070 

1070 

1070 

1070

2650

1800

2600

1070

2285

2355

585

340

1600

2000

1120

2380

1070 

1070 

1070 

1070

2700

1800

2650

1070

2300

2380

610

370

2000

2100

1120

2480

1070 

1070 

1070 

1070

2800

1800

2700

1070

2380

2480

630

405

2500

2200

1120

2550

1070 

1070 

1070 

1070

2900

1800

2800

1070

2420

2550

640

420