The China VD4 series vacuum circuit-breakers are devices for indoor switchgear installation. Please contact ROCKWILL for special installation requirements. VD4-R series medium voltage vacuum circuit breakers with lateral operating mechanism for indoor installation feature the separate pole construction technique. Each pole houses a vacuum interrupter which is encased in the resin when the cylinder is moulded thanks to a special manufacturing process. This construction method protects the vacuum interrupter from shock, pollution and condensation.
VCB VS1 12kV 630A Indoor High-voltage Vacuum Circuit Breaker:
Interphase distance:210mm
Handcart type
Double spring operating mechanism
Applicable place: (particularly to the places needing frequent operation)
1.the electrical equipment control and protection in industrial.
2.mining enterprises.
3.power plants.
4.substations.
It can be fixed in a switch cabinet or installed on a handcart.
Stable performance and easy installation.
Vacuum Circuit Breaker Advantages
1.Simple structure.
2.Adapt ultra low resistance type vacuum interrupter.
3.Adapt optimization and modular spring operating mechanism.
4.Suitable for occasions with frequent operation.
5.Free maintenance and long service life.
6.High reliable performance.
Environmental Conditions 
Ambient temperature: - 40°C~+40°C (below 35°C within 24 hours)
Relative humidity: ≤95% (daily average) or ≤90% (monthly average)
Altitude:  ≤ 1000m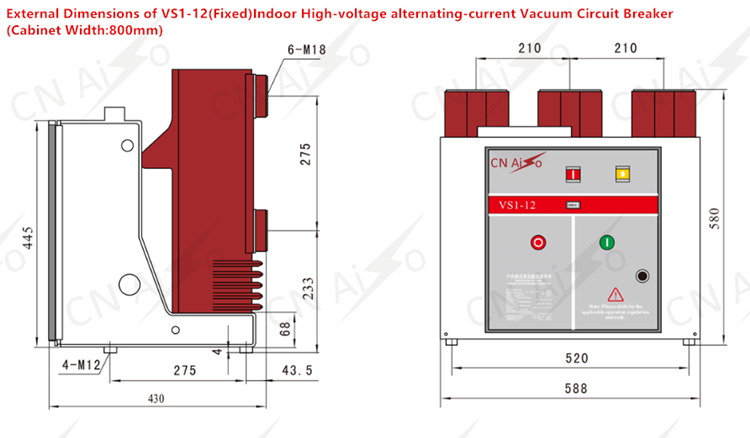 Vacuum circuit-breaker
**4/R 12
**4/R 17
**4/R 24
Standards
*
*
*
Rated voltage
Ur(kV)
12
17.5
24
Rated insulation voltage
Us(kV)
12
17.5
24
Withstand voltage at 50Hz
Ud(kV)
28
38
50
Impulse withstand voltage
Up(kV)
75
95
125
Rated frequency
fr(Hz)
50-60
50-60
50-60
Rated thermal current
Ir(A)
630
800
1250
630
800
1250
630
800
1250
Rated duty breaking capacity
(symmetrical rated short-circuit current)
Isc(kA)
12.5
/
/
12.5
/
/
12.5
/
/
16
16
16
16
16
16
16
16
16
20
20
20
20
20
20
20
20
20
25
25
25
25
25
25
/
/
/
Short-time withstand current(3s)
Ik(kA)
12.5
/
/
12.5
/
/
12.5
/
/
16
16
16
16
16
16
16
16
16
20
20
20
20
20
20
20
20
20
25
25
25
25
25
25
/
/
/
Making capacity
Ip(kA)
31.5
/
/
31.5
/
/
31.5
/
/
40
40
40
40
40
40
40
40
40
50
50
50
50
50
50
50
50
50
63
63
63
63
63
63
Making capacity
*
*
*
Opening time
ms
40...60
40...60
40...60
Arcing time
ms
10...15
10...15
10...15
Total break-time
ms
50...75
50...75
50...75
Closing time
ms
30...60
30...60
30...60
Code
Available versions
Closing pushbutton
**4circuit-breakers with lateral operating mechanism are available in
the following versions:
Open/closed indicator
Discharged
Center-distance P=()mm
Fixed
Removable
Operation counter
210
210
Manually charging handle
230
230
Opening pushbutton
250
250
Protection relay
275
275
Delivery terminal box
300
300
Current transformer
310
310
Polo