Features:
1. The product adopts epoxy resin material. It gains high level of insulation, intensity and stability.
2. Bushing series is used for insulation and connection transition of completes with rated voltage of 12KV, 40.5KV and below.
3. Epoxy resin vacuum casting, the APG epoxy resin pressure gelatin, the liquid silica gel formation, we always supplies the best quality products.
4. It can be detected by X-ray instrument, bureau put instrument, thermal Cycle Test Machine.
5 .It provides different specifications based on the size of electric current for the user's choice, and sold well both at home and abroad.
Applicable Work Environment:
Indoor installation. 2. Altitude: ≤1000m. 3. Ambient temperature: -10°C~+40°C. 4. Creepage distance: ≥20mm/KV 5. The relative humidity shall not be more than 85%at+20°C ambient temperature. 6. NO gas, vapor or dust that may severely affect the insulation of contact box, no explosive or corrosive substance
Application
The primary purpose of any Cut-out Fuse is to provide protection to the lines of your system and the various apparatus on those lines such as transformers and capacitor banks.
Cutout fuse provide reliable protection from low-level overloads that just melt the fuse link, intermediate faults, and very high faults, through maximum interrupting capacity.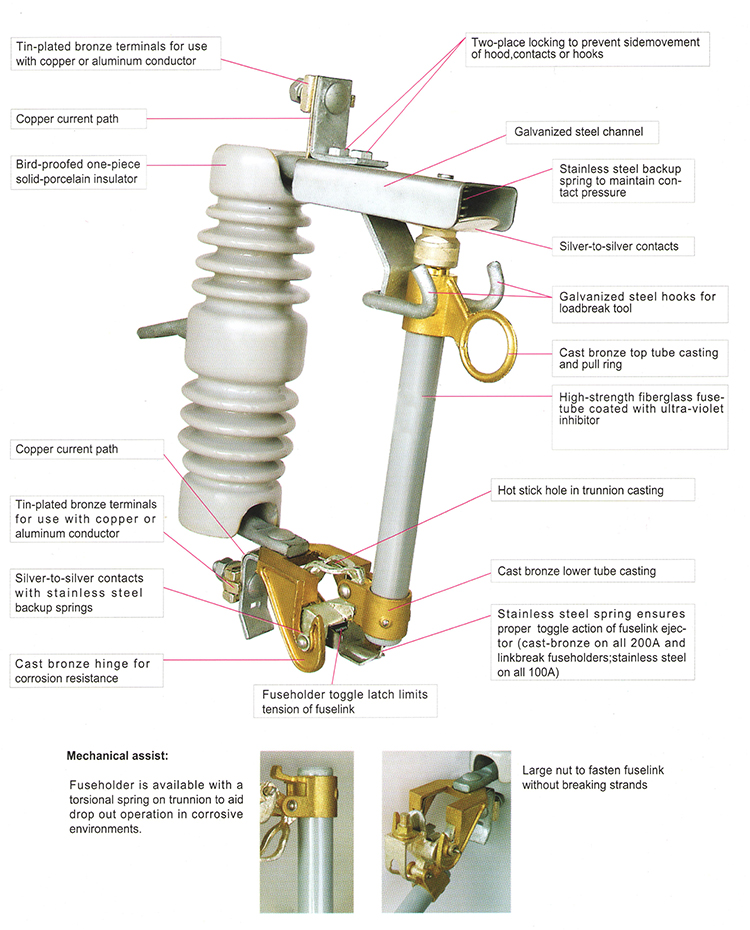 Technical Data:
Type:

Rated Voltage

Rated Current

Beaking Current

Impulse Voltage

Power-frequency




withstand voltage

Leakage




distance

kV

A

BIL

kV

mm

kg

SM-1

12

100

6.3

110

40

250

SM-1

12

200

8

110

40

250

SM-2

15

100

10

125

45

320

SM-2

15

200

12

125

45

320

SM-3

24

100

8

150

65

530

SM-3

24

200

10

150

65

530

SM-4

15

100

10

125

45

350

SM-4

15

200

12

125

45

350

SM-5

12

100

6.3

110

40

250

SM-5

12

200

8

110

40

250

SM-6

15

100

10

125

45

320

SM-6

15

200

12

125

45

320

SM-7

24

100

8

150

65

540

SM-7

24

200

10

150

65

540

SM-7(F)

33

200

12

170

70

720

SM-8

33

100

10

170

70

720

SM-8

33

200

12

170

70

720