KYN28A-12 Overview 
This equipment is indoor metal armoring with drawable switchgear(hereafter refer to as switchgear.3.6-12kilovolt three phase AC 50Hz single bus bar and the single bus bar subsection system's omplete electricity distribution equipment is used in the power plant, small and medium-sized generator power transmission, industry and mining business power distribution as well as electrical industry system's second transformer substation's electric take-over, power transmission and large-scale high pressure motor starting and so on. The purpose is to control, protect and monitor. This switch equipment is up to the standard of IEC298、 GB3906 and can prevent the charge from pushing and pulling the breaker, from opening and closing the breaker, from insulation with electricity by mistaken, from earthed switch closing the breaker, from opening the switch's interlock when it with electricitymistakenly. It can not only use with VSI vacuum circuit-breaker, but with ABB Corporation's VD4 vacuum circuit-breaker. It is indeed a kind of power distribution equipment with superior performance.
KYN28A-12 Use environmental conditions
1. Normal condition
◆Surrounding air temperature:-10C~+40℃
◆Altitude:1000M
◆Relative environment humidity: The daily relative humidity average is not higher than 95%, the monthly relative humidity average is not than higher 90%
Earthquake: The intensity does not exceed 8 degree.
◆The surrounding air without corrosive or flammable gas or water vapour.
◆Without a lot of dirtiness and regular fierce vibration, under the severe condition, the intensity meets the first kind requirement.
2.special working conditions When it is used beyond the normal environmental condition stipulated in the GB3906, the user should consult with the manufacture.
KYN28A-12 Structure Introduction
The switch equipment is designed according to GB3906-91 metal armoring seal switch equipment. The rectifier body is made up of the cabinet body and draw-out parts(namely handcart) placed in the middle. See charter 1. The cabinet divides into four separate rooms, the outer covering protection grade is IP4X, when each small room and the circuit breaker is opened, the protection grade is IP2X. It can suspend the inlet, outlet line, cable's inlet, outlet line and other function plan. After arranged and combined, it can become each kind of plan form of the power distribution equipment. This switch equipment may be installed and maintained from the frontage, therefore it may compose the dual arrangement back to back and be installed against the wall, improving the switch equipment's security and flexibility and making full use of the occupying area.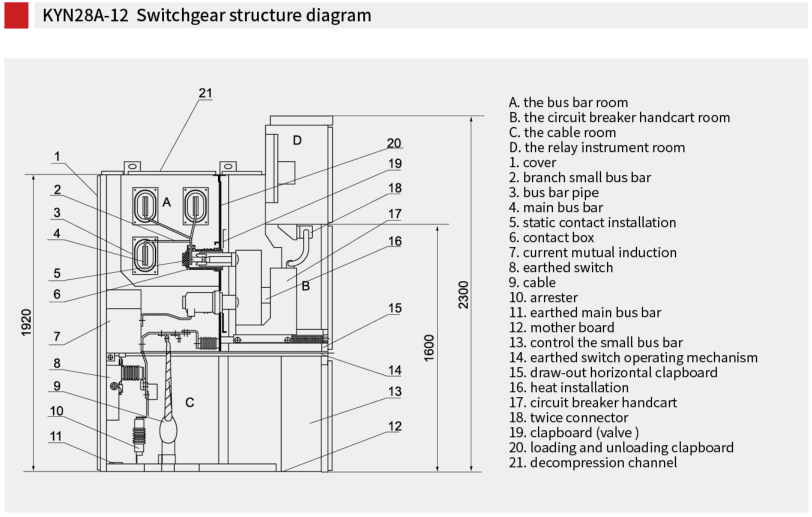 KYN28A-12 The main technical parameters
Item
Unit
Data
Equipped with breaker
ZN63A-12(VS1)
VD4
Rated voltage
kV
12
12
1min working frequency endurable voltage
kV
42
42
Shock endurable rated voltage(peak)
kV
75
75
Rated frequency
Hz
50
50
Rated current
A
630/1250/1600/2000/2500/3150/4000/5000
Branch bus bar rated current
A
630/1250/1600/2000/2500/3150/4000/5000
Rated short time endurable current(virtual value)
kA
16 20 25 31.5 40 50
16 20 25 31.5 40 50
Rated peak endurable voltage
kA
40 50 63 80 100 125
40 50 63 80 100 125
Rated short-circuit duration
S
4
Protection degree
The enclosure is IP4X,and the compartment door and
the handcart compartment door are IP2X when opened
Quality
kg
700-1200
700-1200